Below are final results for Solo Championship Event #4 & 5 (Tri-Pod Challenge) which took place on August 19 & 20, 2017 at Miller Park.  You can also find these files on the Solo Results page, along with past events.
Results:
Event 4 – Class Results (includes Pro)
Event 4 – PAX Results
Event 5 – Class Results (includes Pro)
Event 5 – PAX Results
Season Points Standings:
Current Season Class Standings (thru Event 4)
Event Sponsor: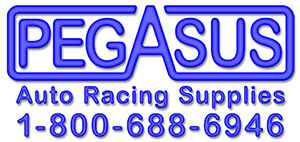 Get in contact with Pegasus Auto Racing Supplies for all your racing supply needs.  Need a helmet, driver suit, maybe a tire gauge?  Yep, they have it.  Need a line for your new gas tank?  How about some oil or differential fluid?  Got that too, along with all sorts of items to get your car back on the track.  Although inventory is important, the real key to providing superior customer service is there dedicated and highly experienced staff.  Pegasus employees collectively represent more than 200 years of racing experience including years spent competing on the track, as competition driving instructors, as professional race mechanics, and in the racing parts supply business.  You can click the image to search their vast catalog, tell them that Milwaukee Region SCCA sent you!