Car Classing
---
Competitors are responsible for selecting which class to run in.  Cars are divided into categories, and each category has classes.  Classes separate cars by performance, so that Mini Coopers compete against Civics and not against Corvettes.  Categories separate cars according to their level of preparation. There are now 7 main car preparation levels, along with karts.  Keep in mind, if the rulebook doesn't specifically say a change can be made, it is not allowed in that category/class.
You can download a copy of the solo rulebook, as well as outlines of what other classes may be available to you by visiting the Solo Cars and Rules section of the SCCA website. Once you begin reading, you may become confused, there is a lot to take in. You can fill out the Car Category Worksheet to assist in determining which category your car falls in.
If you need additional help, we encourage you to visit our Facebook Group (or email the Solo Liaison), introduce yourself, and let some of the experts there help you class your vehicle.
 
Categories
---
Street category is a prep level for nearly unmodified street vehicles.  The  rules allow you to use certain aftermarket parts for wearable items.  Replacement shocks, brake pads, plugs/wires and air filters are 'free'.  Any wheel can be used as long as it's the same diameter and width as stock and has the stock offset within +/- 7 mm.  You may replace the front or rear sway bar and use a cat back exhaust.  A minimum treadwear of 200 is required for tires in Street Category.  Treadwear ratings below 200 are not allowed. See Sections 13 and Appendix A of the Solo Rules for more information.
Note: You may not replace/reflash a chip (ECU), headers, cold air/cone type air filter, or cut/replace/lower your suspension springs.
Exception: Super Street R (formerly Super Stock) class uses the same rules as Street with the following:
• diameter wheel rule (+/- 1") are not allowed
• DOT R tires, such as the Hoosier A6, are allowed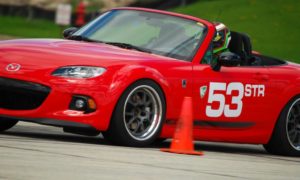 Street Touring category builds on the Street rules and allows some common suspension and appearance modifications.  Changing of wheels (width is class dependent), replacing/reflashing chip (ECU), cold air/cone type air filters, lowered springs, both front and rear sway bars, strut bars, adjustable camber devices, headers, and underdrive pulleys, and aftermarket seats, are all allowed.  See Sections 14 and Appendix A of the Solo Rules for more information.
Note: You may not flare your fenders, remove interior pieces, or use unlimited wheel sizes.
Street Prepared category builds on the Stock and Street Touring rules and allows further modifications, again mostly bolt-ons.  Fender flares, any wheel size, torque arms, panhard bars, and LSD's are all allowed.  You may not overbore the motor past .0472 inch, use an alternate cam, or aftermarket turbocharger.  They run on DOT R tires such as the Hoosier A6.  See Sections 15 and Appendix A of the Solo Rules for more information.
Street Modified category features streetable sport sedans equipped with additional drivetrain (must match chassis mfr.) and suspension modifications, steering components and gears, fiber engine covers and truck lids, bolt-on fenders, aerodynamic wings and splitters that are beyond those allowed in the Street Prepared category.  Removal of the rear seats are also allowed.  See Sections 16 and Appendix A of the Solo Rules for more information.
Prepared category vehicles are usually SCCA road racing machines.  They have weight, carburetor and wheel size restrictions, require roll bars and are generally not street legal, (consult the rulebook for more info).  They also run on full racing slicks. Unfortunately, otherwise Street class cars with aftermarket cams or gutted interiors must run here to be legal.  See Sections 17 and Appendix A of the Solo Rules for more information.
Modified category vehicles are usually purpose built racing machines.  Cars with alternate motors, turbochargers, big wings, open wheel formula cars, and college FSAE cars fall into this category.  They also run on full racing slicks. See Sections 18 and Appendix A of the Solo Rules for more information.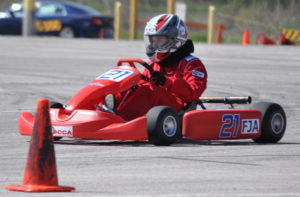 Kart / Junior Kart category has a place for both adults and minors to compete in karts.  Adults (18+ years old) complete in Kart Modified in shifter karts, while minors (5 to 17 years old) complete in one of three classes (JA, JB, and JC) based on their age.  See Sections 19 and Appendix G & H of the Solo Rules for more information.
Competitors police themselves by the protest procedures detailed in the Solo Rules.  Don't worry, the reality is that there are very, very few protests.
Helpful Tip: If you think one of you competitors is outside of the rules, maybe they don't know.  Your best course of action would be to to talk to them before even thinking about a protest.  We are out here to have fun!
Ladies Class
---
To help attract female drivers, the SCCA offers ladies classes.  We have a Ladies class for each of the open classes.  These are completely optional, ladies are free to run in the open classes.  Depending on the number of Ladies entries at the event, the Ladies Classes may be scored in a combined class using an index for computing the results.  If enough entries exist, they will run as a separate class.  This way the Ladies Class drivers will be more likely to have some competition at events. Drivers will select Ladies class during registration, if they plan on running in the Ladies Class.  You also need to display an L after the class on both sides of the car for example B-Street Ladies would be BSL.
Supplemental Classes
---
Below are supplemental classes offered by Milwaukee Region which are outside of the SCCA classes.  These are specialized in order to meet the needs of our region and it's members.  The finishing position of these classes will be determined by multiplying their fastest time by the current PAX/RTP factor, as this helps level the playing field across different classes.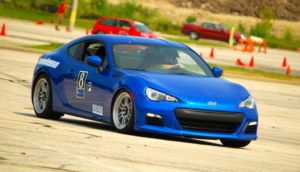 Pro Class (Instructor) – The instructors have removed themselves from normal class competition so that they can help others improve their skills.  They are available to help you at the event, whether it is for recommendations on tire pressures, how to read the course or in-car instruction.  The instructors are some of the best drivers in the country and you can learn a lot from just watching how they drive.  They are run as a group with a "P" for their class letter.  The instructors are available to ride along with you for instructional purposes; they may also take you out in their cars.  Participation in this indexed class is voluntary and is subject to the approval of the Solo Chairman.  The instructors are eligible for all year-end awards.  The instructors will lend their years of experience and knowledge to help make your experience in Solo more rewarding.
Novice Class – A novice is defined as a competitor that has competed in no more than two (2) events in any previous season.  Once a competitor loses their status as a novice, this cannot be "reset".  These same restrictions are used to determine our Rookie of the Year reward.  All novices in the class are eligible for end of day trophies in the novice class.  A Novice class driver with a CS car eligible will run in CS's run group, and will mark their car with an "N" as follows: "NCS".  Novices must become annual Milwaukee Region SCCA members to be eligible for year end points and trophies.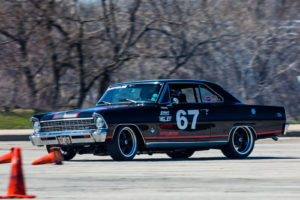 Classic American Muscle (CAM) – This category is for domestic car or truck with Front Engine / Rear Wheel Drive configuration, you are allowed most any modifications, only limiting factor is the 200+ treadwear rating of the tires.  See Appendix B for more information on the three (3) class within CAM.
Tire Limited – This class is offered for vehicles classed in the Street Prepared, Street Modified, Prepared, and Modified on tires with a 200+ treadwear rating.  This allows competitor to complete against other vehicles which would be at a large disadvantage in their standard class against DOT R tires.  Vehicles in this class complete together and are indicated with a "T" class designation on their vehicle.
RTP / PAX Indexing
---
Each class has an index factor attached to it; this index is used to equalize the competition between different types of cars.  All of our Supplemental Classes use their indexed times to figure out class results.  The indexes are maintained by Rick Ruth, a longtime SCCA member from St Louis, not the SCCA itself.  Each cars index is very course, weather and surface dependent, but over the course of a year, it should equal out. Link to the current RTP/PAX Index.
To calculate your index time you multiply your raw time by your class index.  For instance if you had a time of 50 seconds and your car is in D-Street with an index of 0.800 you would multiply 50 x 0.800 = 40 seconds, this would be your indexed time.  You can also compare this indexed time to cars in other classes to see who is faster.  An AS Corvette can have a faster raw time, but lose to a GS Ford Focus ST on index.  For instance, if the AS car ran a raw time of 48.5 on the same course as above, with an index of 0.830 he would have an indexed time of 40.255, so in this case the slower raw time would be the faster car on the index.