History of the Milwaukee Shield
Mis-shifting
November 2012
It was in 1956 when early SCCA racer, Milwaukee Regional Executive, successful businessman and good guy Andy Rosenberger suggested that, "As long as we have broken away from our shirt-tail relatives to the south, why don't we get an identifying club badge of our own?" What he meant by that was up until then SCCA Chicago and Milwaukee Regions had seemingly been operating as one club sharing events and mailing lists.
While both were independent regions under the SCCA umbrella, activities for both were covered in Chicago's Piston Patter until Jim Jeffords created the Drifter for Milwaukee, later shortened to the Drift.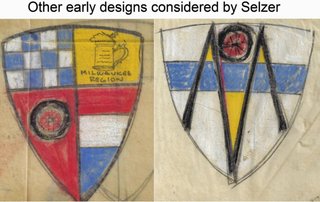 After much prodding, soon to become 1957 Regional Executive, Bill Selzer designed an emblem that to this day remains unchanged. That is, unless you consider later plastic versions as different from the hard enameled metal product created by Milwaukee jeweler and Jaguar racer Bob Erffmeyer. Using many American and International badges as references, Selzer settled on a white shield decorated on one side with a beer stein, indicating gemulicht, linking us artistically and ethnically to our great city and state. On the opposite side, he placed SCCA's wire wheel and the two were separated by a vertical blue stripe up the middle highlighted with narrow vertical red stripes on either side. The resultant finished product was red, white and blue, American racing colors. Unlike later flat badges, Erffmeyer's original was contoured to fit the classic curved grill of the Jaguar XK120, cars which both he and Selzer owned at the time.
The region has very nice Milwaukee Shield stickers available to members, talk to your event officials to get yours!